Gleym mér ei (Forget me not) is a non-profitable organisation for those who have lost during pregnancy or during/after birth. The purpose of the association is to manage a grant fund that is used to support issues related to the loss of children, where those small lights are preserved and live on in the memory.
---
Anna Lísa Björnsdóttir, Þórunn Pálsdóttir og Hrafnhildur Hafsteinsdóttir founded Gleym mér ei in the fall of 2013. Their shared experience of loss during pregnancy brought them together with the goal of better supporting parents who lose a child during pregnancy and during/after birth.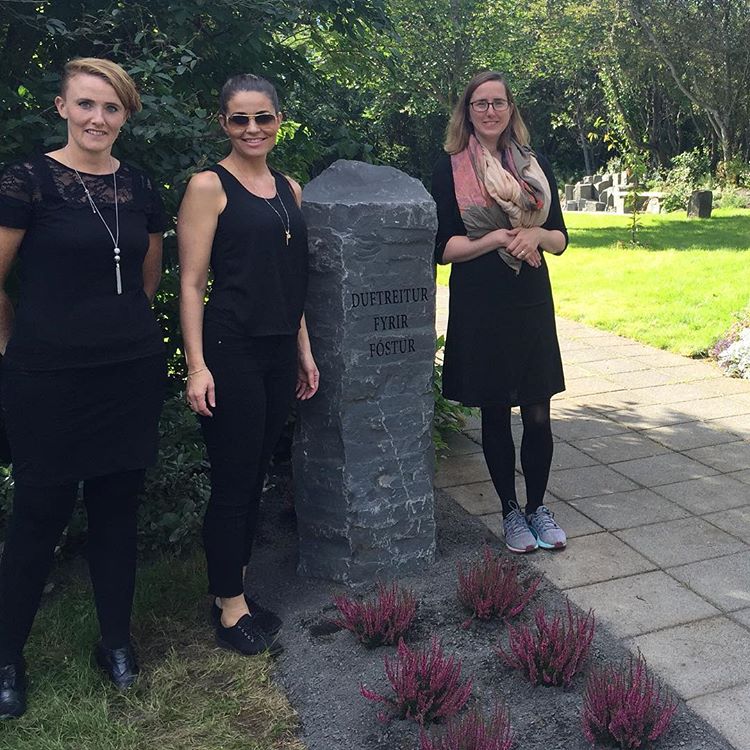 during/after birth. The association supports issues related to bereavement and focuses on supporting parents and other relatives.
Sigríður Vala Halldórsdóttir
Vice administration
Svandís Edda Gunnarsdóttir
Management
Marketing and social media
Here are some of the many projects that Gleym mér ei has come up with.
Since 2017, Gleym mér ei has given memory boxes to parents who lose during pregnancy or during/shortly after birth. A total of 100 boxes have been donated per year and each box costs ISK 25,000.
In 2019, educational material on reduced fetal movements was created, which Gleym-mér-ei hosted in collaboration with the Midwifery Association of Iceland, the Health Service and the National Hospital with support from the Ministry of Health and the National Medical Board.
Spörkin Tjela brochure click HERE
In 2022, educational material was created for expectant parents.
Becoming a Parent brochure click HÉR
Reissue of the brochures "When joy turns to sorrow" in collaboration with Landspítali University Hospital, in 2020.
"We know that the grieving process takes longer than the few days that you and your partner are in our care, who work in the women's wards of Landspítal. We know that this is a difficult time for each of you to deal with grief and hurt feelings.
It is our sincere hope that this booklet will be useful to you on the journey you are currently on, that it will be a support and a guide in your grief and longing. There is no one who can take away the sadness you feel. The booklet and the stories of the parents that follow can hopefully lead your mind to the fact that you are not alone. There are many people who can and want to help you in these difficult situations". (From the brochure "When joy turns into sorrow").
The children's book "Little Light" by Særún Hlín Laufeyjardóttir in 2019.
In 2018, Gleym mér ei gave a sofa bed, an armchair and curtains in Kristínar's room from the Landspítáli´s pregnancy and maternity ward.
In 2018, Gleym-mér-ei donated two cameras to the maternity ward and the pregnancy and maternity department of Landspítali.
Sorgarmiðstöð (the Grief Center)
In 2019, the Grief Center was founded, but it is a cooperative project of grassroots associations that focus on grief processing. The associations are: Ný dagun, Birta national association, Ljónsjarta and Gleym mér ei. The goal is to support the bereaved and those who work for their well-being. Grief Center is a charity that bases its existence and operations on grants. The grief center is open to everyone, mourners and professionals alike. More information can be found on Sorgarmiðstöð website
In 2018, Gleym-mér-ei gave clothes to stillborn babies in three sizes.
In 2018, Gleym-mér-ei gave Landspítali a pram and a cot as a gift.
In 2021, Gleym-mér-ei donated two beds to Landspítali
On October 12, 2015, the Gleym mér ei grant association brought 2 hospital beds and 2 bedside tables to Landspítali's pregnancy and maternity department in collaboration with students at Reykjavík University.
Memorial center for fetus
The association has been in charge of renovations to the cremation ground for fetuses in Fossvogur Cemetery, and that work has been going on since 2013. That work was completed in 2017, but the designer of the changes is Kristín María Sigþórsdóttir.
Pictures of the memorial center
In the summer of 2018, Gleym-mér ei donated a cooler to the cementery's funeral home. It is valuable for parents to have the option of being able to take the child home, have their closest relatives and have a farewell moment at home.
In October 2014, the Gleym mér ei grant fund of Landspítali, the Fjörðungssjúkrahús in Akureyri and the Heilbrígíðisstofnun Vesturlands in Akranes brought cooling cradles for stillborn babies and many people contributed to the cause. Magnús Brynjar Guðjónsson's memorial fund donated the cooler that went to FSA.
Angel parents in Akranes participated in a collection for a refrigerated crib that was donated to the Vestfjörður Health Institute.
Forget me not gives parents who lose children during pregnancy memory box to take home with you.
In September 2016, Gleym mér ei gave to Fæðingervakt and Landspítali's Maternity and Maternity Department 11 boxes to make footprints/hand tracings of stillborn babies. Parents are given the boxes as a souvenir.
Landspítalin donated specially sewn covers for cooling beds at Landspítali, Akureyri and Akranes.
Lín Design provided beautiful bedding for coolers.