You can help us continue to keep our mission going.
The company's main projects are educational materials, memorial boxes, the Reykjavík Marathon of Íslandsbanki and a memorial service held on October 15 each year. There are also three support groups that we encourage members to join. Few things help as much as talking to parents who have gone through similar experiences
---
Gleym mér ei gives all parents who lose a child during pregnancy or during/after birth a memory box to create memories with the child.
Each memorial box costs around ISK 25,000 and you can support the association by depositing the value of the memorial box. You can also give a free amount donation to pay up for part of a memory box, by doing so you are giving one family the opportunity to create memories with their child.
Gleym mér ei styrktarfélag:

Kennitala: 501013-1290

Bank account number: 111-26-501013
Now you can send parents and relatives a beautiful memory card to support Gleym mér ei.
To order a commemorative card, it is best to send us an email at gme@gme.is
The e-mail must state what text should be written on the card, where the card should be sent and who the card is from. We will print and ship the card for you. We ask that a minimum amount of ISK 4000 be deposited into GME's account.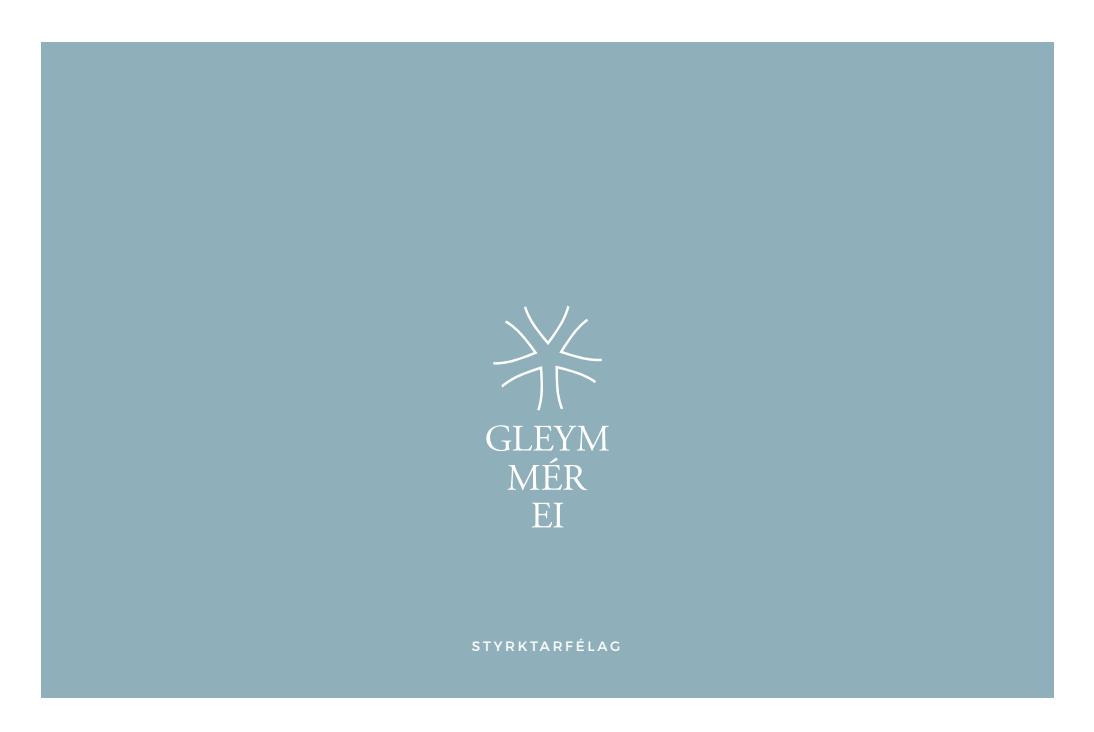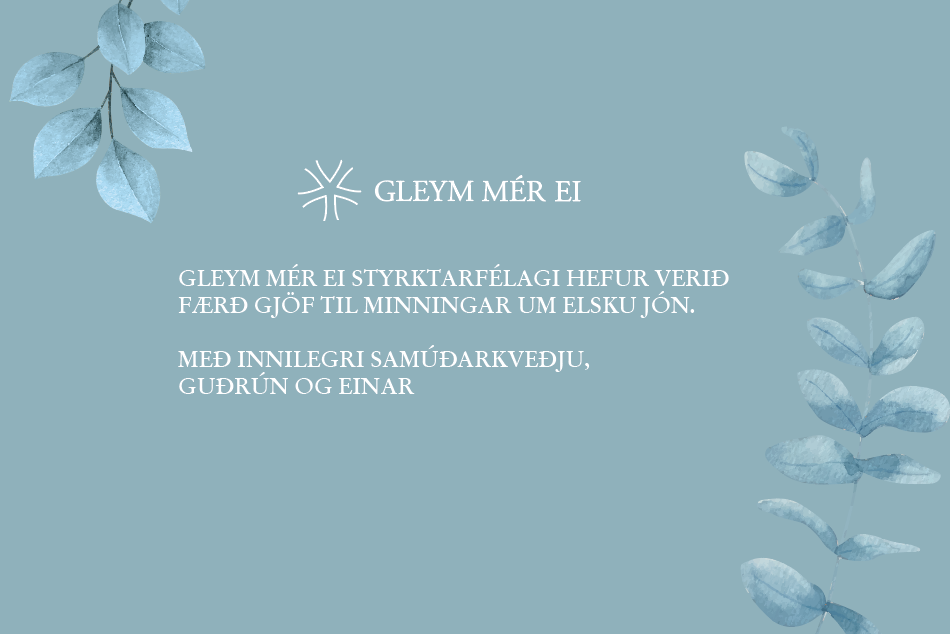 Gleym mér ei gives parents who lose children during pregnancy or during/after birth a memory box to create memories with the child. The parents can then take the memories home with them to remember the child. 
Losing a child is one of the most difficult tasks parents face in life. Anticipation and expectations of the life ahead are broken. The time parents get with the child is precious and important to create as many memories as possible. These memories can be preserved for years to come as a reminder of the little life that never happened.
To order a memorial box, it is best to send us an email to our email address gme@gme.is
Each memory box costs about ISK 25,000. If you want to support the association by buying a memory box or donating a certain amount to a memory box, you are giving one family the opportunity to create memories of their child.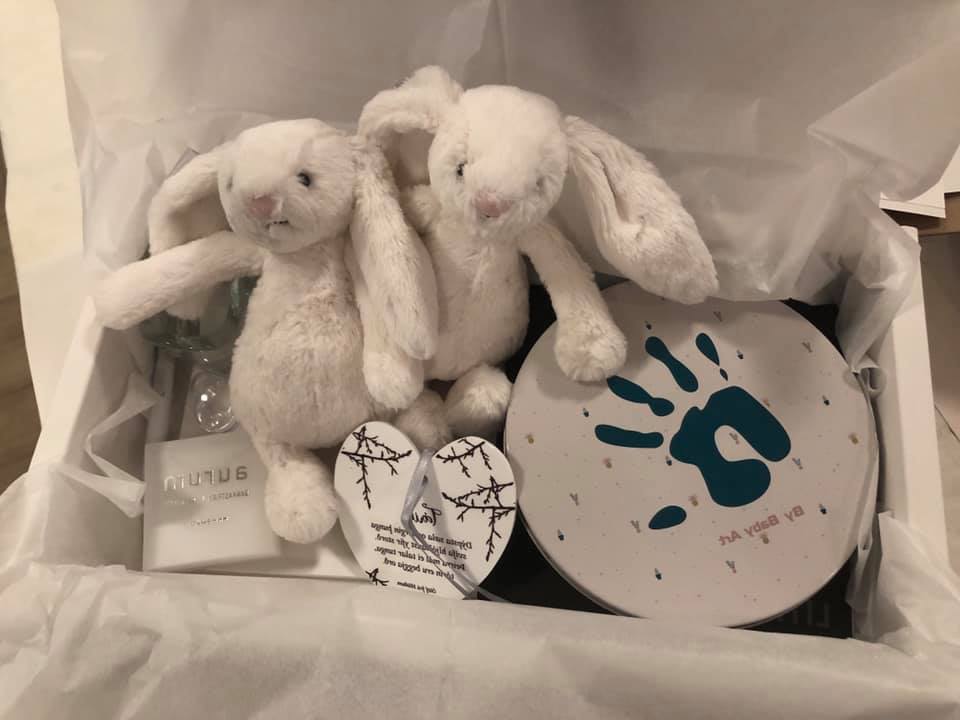 Letter that comes in the box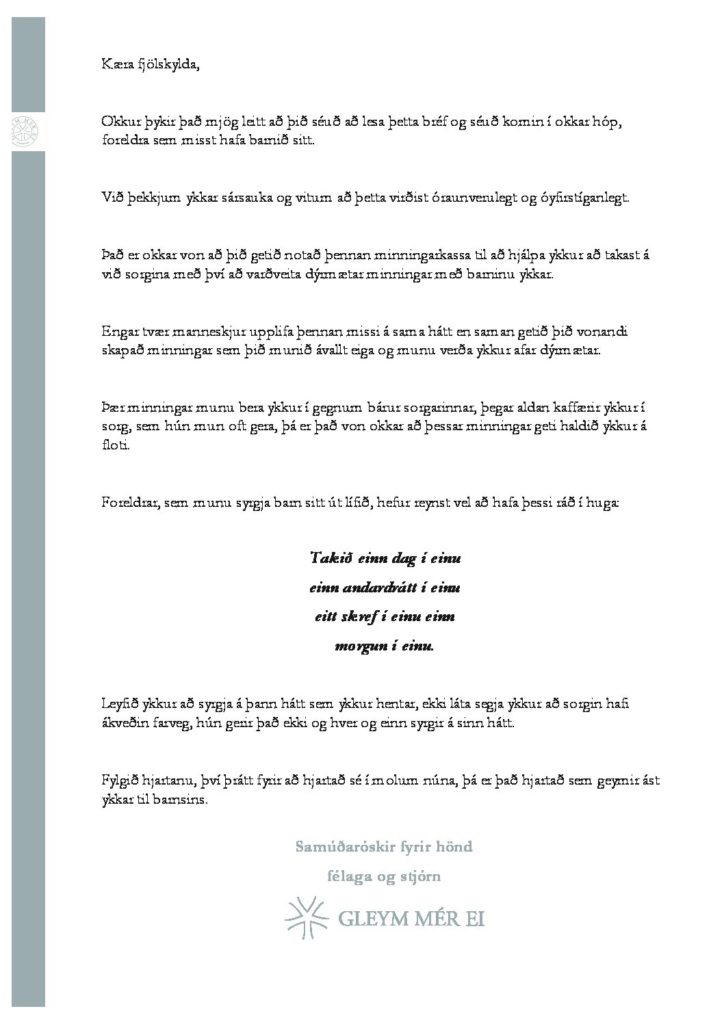 The Gleym-mér-ei jewellery line is designed in collaboration with Aurum.
The jewellery line not only reflects the flower's symbolic meaning of preserving and nurturing memory, but its forms, which show both strength and mystery, are highlighted. The leaves are beautifully shaped and form a strong sheath around the blue crystal stone that can be seen as a promise of a life that never happened while also emphasising the importance of remembering what actually was and what could have been.
Forget-me-not is a piece of jewellery designed in memory of all the children who have a life in the hearts of their loved ones.
Aurum – Forget me not collections
One of the things that we at Gleym-mér-ei wants to do is to promote being able to keep the memory of our little angels alive and find ways to have them as part of everyday life.
The necklaces are sold at Aurum in both gold and silver.
You can contact Aurum at 551-2770 for more information or orders.
Íslandsbanki's Reykjavík Marathon
Íslandsbanki's Reykjavík Marathon is an important part of our fundraising every year, and the discussion there is also extremely important. Loss during pregnancy is often isolating for parents and their loved ones – this grief is often difficult for those who did not bond with the child in the same way as the parents but who want to provide emotional support to the parents. The discussion that takes place each year is extremely important and all financial support is greatly appreciated.
In the Íslandsbanki's Reykjavík Marathon in recent years, many people have run for us, and we are very grateful to the runners and those who sponsored them. The marathon is by far the most important fundraiser in our work.
---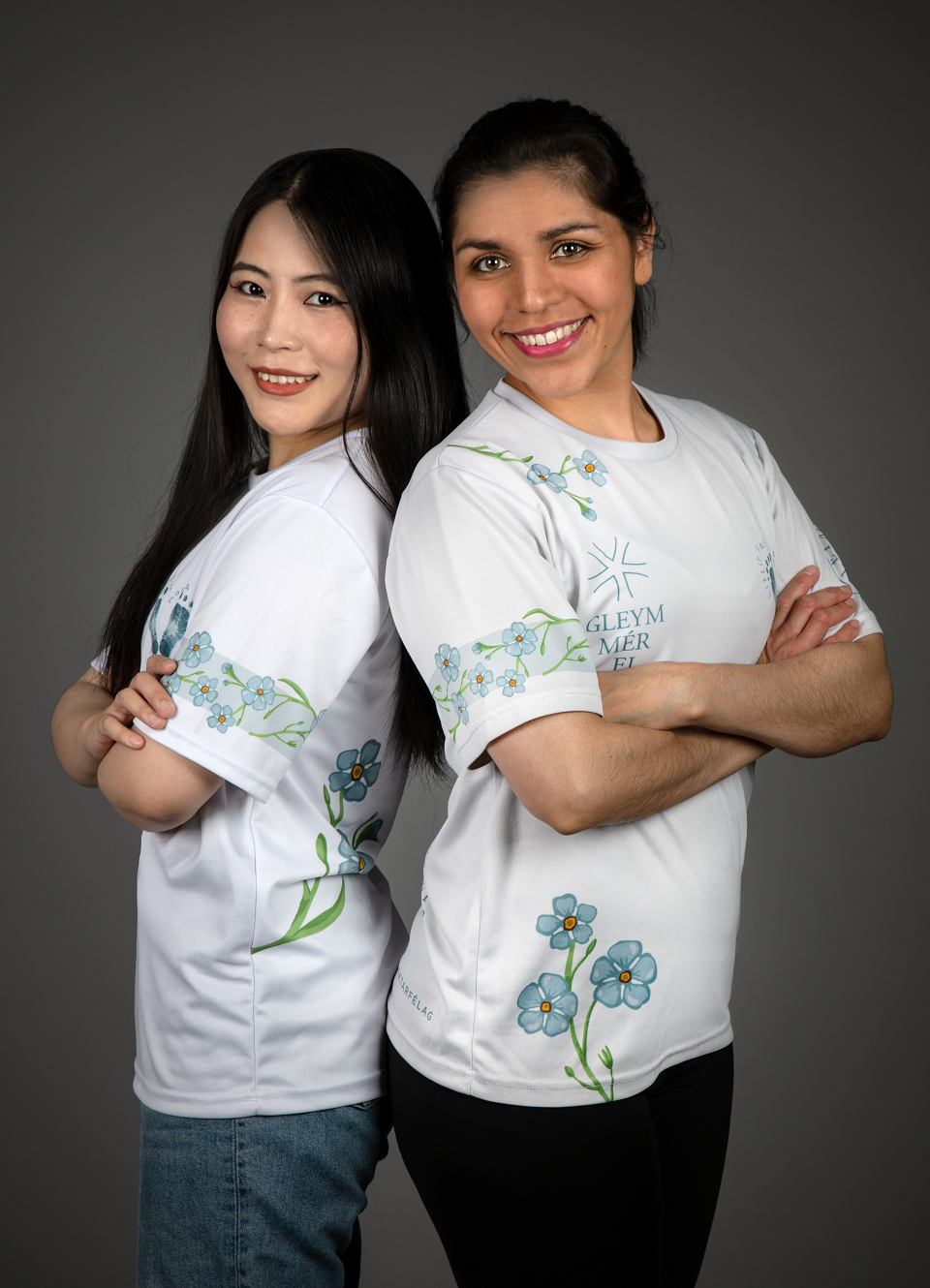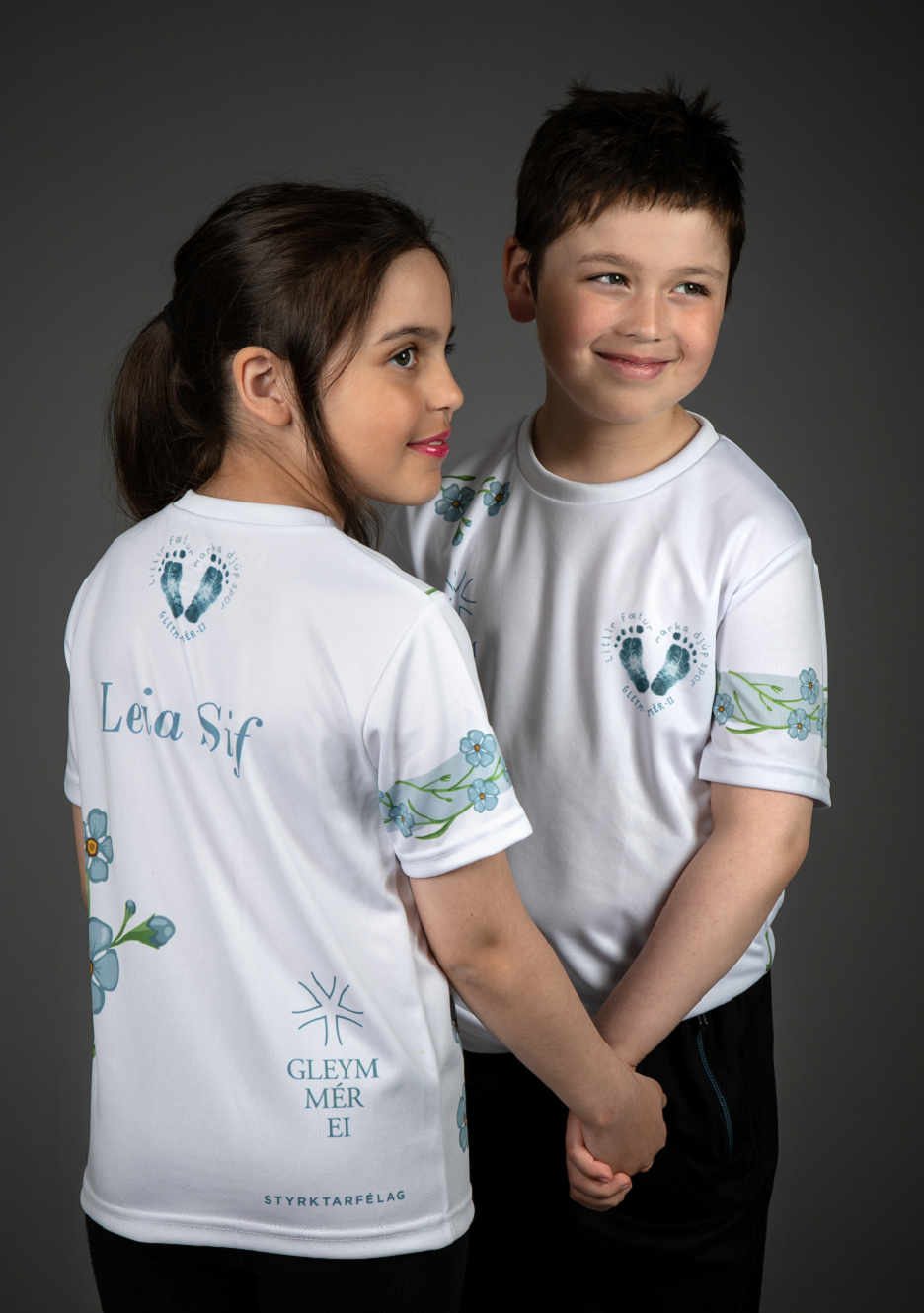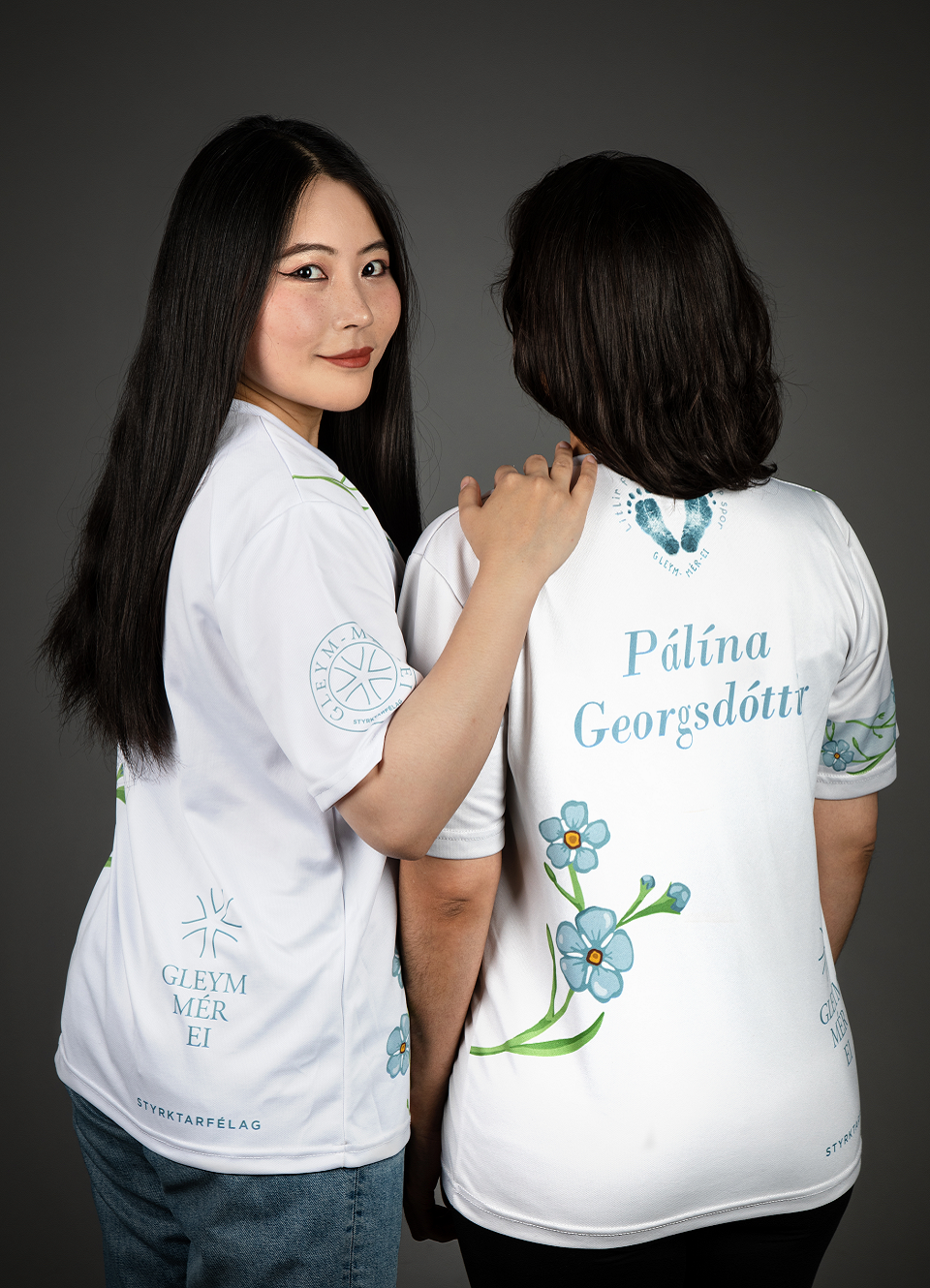 Gleym mér ei
 gives its runners a shirt designed by Bergrún Íris Sævarsdóttir Most people choose to label their child's shirt and it costs ISK 2000.
Those who do not run can also buy the T-shirt with or without special marking (3500 ISK/2500 ISK). The top has a unisex fit and is made of light synthetic material. All children's (86-158cm) and adult sizes available.
Orders will be accepted via the email address 𝐛𝐨𝐥𝐢𝐫@𝐠𝐦𝐞.𝐢𝐬
Pictures: 𝐒𝐢𝐥𝐣𝐚 𝐑𝐮𝐭 𝐓𝐡𝐨𝐫𝐥𝐚𝐜𝐢𝐮𝐬